Types of Safety Clothing
When classified by the coverage of anatomy, articles of clothing become easily identified. The following table lists articles of clothing and the degree of coverage they offer. Most of the garments mentioned below are available for any of the above functions with the appropriate construction. Some notable exceptions include belts and joint pads, which are primarily used for ergonomic support; socks, which rarely function beyond keeping the user warm and comfortable; and pressure suits, which are reserved for environments with extreme radiation, biohazard, chemical, and temperature risks. Safety gloves are represented elsewhere on IHS GlobalSpec, and leather work boots with steel support and a rubberized sole is appropriate for most PPE applications.

Features of PPE
Breakaway
Breakaway garments have weak-closing binds such as Velcro or snaps. If the garment becomes ensnared in machinery the item will become unbound, releasing the wearer from potential mechanical risk.
Canine
Working canines require much of the same protection as their handlers, and such protection is provided by uniquely-manufactured dog vests. Improved visibility and puncture/ballistic resistance are some of the most
prominent reasons to outfit canines with PPE, as well as to prevent confusion of the animal as a pet.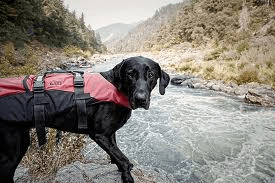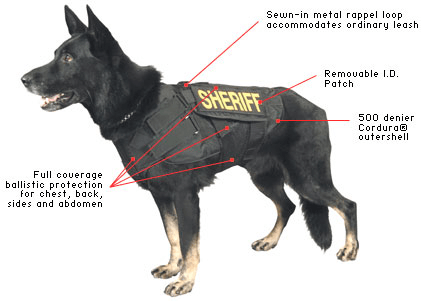 Images credits: Flickr Hive Mind; K-9 Armor
Cooling
Cooling items of PPE incorporate breathable and/or moisture wicking fabrics to keep the bearer comfortable while working in warm environments.
Hydration Pack
Garments with an internal bladder sewn between fabric layers hydrate the wearer by the use of a hose with mouthpiece near the collar of the item. This keeps the wearer hydrated during isolated or extended procedures.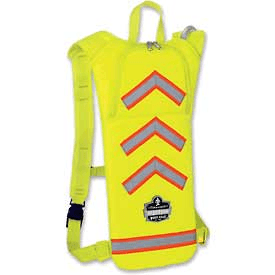 Image credit: Global Industrial
Labeling
In situations involving many workers in various positions, it may be helpful to have PPE labeled by name or job title. This is especially important in emergency incident command where officials may need to be easily recognized to coordinate efforts.
Laundering
Many items of PPE are eligible for typical machine washing, but some properties of the PPE may be adversely affected by the detergent or washing process. Most clean room, biohazard, radiation resistant, and anti-contamination clothing is meant for one-time wear. Materials for arc flash protection, heat and fire resistance, welding, chemical resistance, and static control have strict specifications for laundering.
LED Illumination
PPE with integrated circuits powering LEDs ensure the best possible visibility—superior to that of typical bright-colored, reflective clothing.
Radio Interface
In PPE headgear that may disrupt auditory cues, radios may be integrated or supported to allow workers to communicate directly. Communication may be one-way (directive) or two-way (discussive).
Information by GlobalSpec(http://www.globalspec.com/learnmore/manufacturing_process_equipment/safety_personal_protective_equipment/safety_clothing)
Filled Under: Safety Posted on: September 21, 2015